Inactive accounts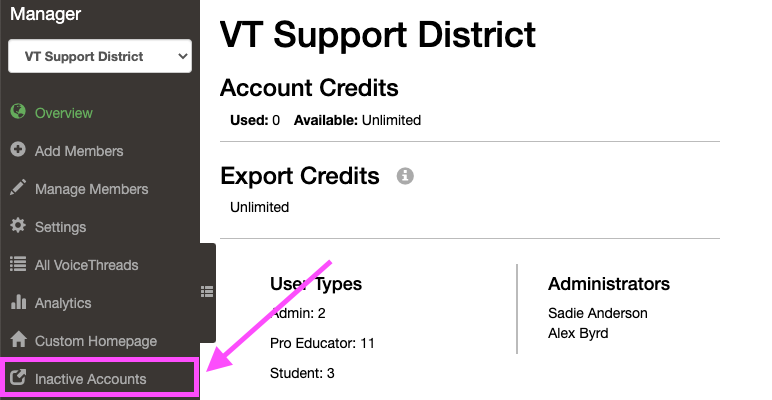 When a user has been inactive for a period of time, their account is archived and eventually deleted.
Definitions of account status:
Active: The user has logged in recently and uses VoiceThread actively.
Inactive: The user has not logged in recently and will move into the "archived" state in 30 days or less.
Archived: The user has not logged in recently, so the account becomes frozen. They cannot log into the account and all content they owned appears deleted, but a license administrator can still restore the account if needed. Accounts are in the archived state for 30 days.
Deleted: The account has been archived for 30 days without being reactivated by an administrator. It is now permanently deleted and cannot be restored.
Account archive schedule
Accounts are archived and deleted on different schedules depending on whether they own any content. There are three categories an account can fall into:
Never accessed: Archived 1 year after creation.
Accessed, but owns no content: Archived after 2 years of inactivity.
Owns content: Account owner is notified by email after 2 years of inactivity that they need to log in to keep their account and content. If they do not log in within 30 days, the account is archived.
An account remains archived for 30 days, and if it is not reactivated by an administrator during that time, it is deleted permanently. Once an account is deleted, it cannot be restored.
Locating inactive accounts
The inactive accounts are those that will be archived within 30 days. This list provides the email addresses of any inactive users and the date that each user is scheduled to be archived.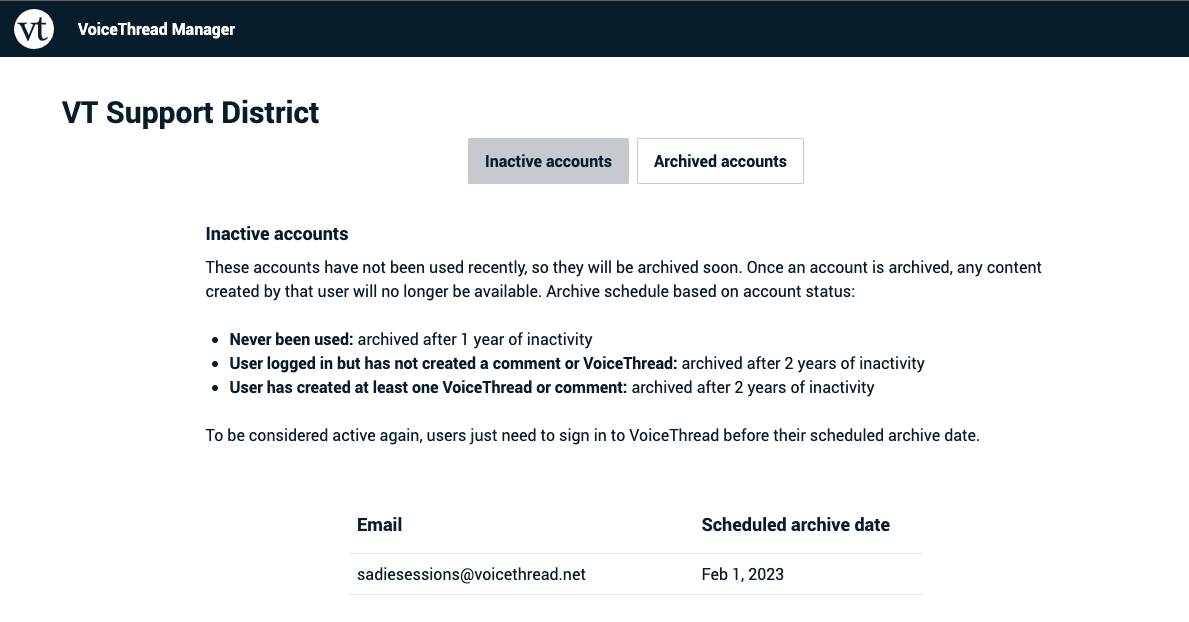 Any inactive user simply needs to sign in to their account, and they will become active again. The administrator doesn't need to take any action; this list is just informational. A user will no longer appear on this list once they sign in.
Restoring archived accounts
Any account that has been archived in the past 30 days is listed here along with a "Restore" button. Clicking on "Restore" will put that account back into the "inactive" state and give the user another 30 days to sign in and return to the active status.